How to Register with St. Jacobs Daycare
Registration Procedure
A tour of the centre will familiarize families with the centre. The centre supervisor will be happy to answer any questions you may have about the program. A completed registration package is required prior to your child's start date.
Program Orientation
Orientation to the program includes a scheduled visit for child prior to their official start date.
In order to save your child's space, a $500 non-refundable deposit is required at the time of enrolment confirmation. The deposit will be deducted from your first month of tuition.
Age Groups
St. Jacobs Daycare accommodates children aged 18 months to 6 years. Child-educator ratios vary based on the child's age and their placement at the centre.
The toddler ratio (generally aged 18-30 months) is 1:5. There are two program rooms of five toddlers in the centre. Preschool ratios (generally aged 30 months to five years) are 1:8.
Full-time and part-time enrolment is available. Priority will be given to full-time care when at capacity. Part-time children may be asked to switch days or withdraw in order to accommodate full time registrants.
There are two groups of 16 preschoolers in the centre.
Fees and Tuition Rates
Fee payments are based on the program room your child is registered in. Children will be moved to an older age group based on availability and age.
Tuition is due on the first of the month.
Child Care Subsidy
St.Jacobs Daycare has a purchase of service agreement with the Region of Waterloo. If you wish to apply for a child care subsidy, please contact the regional office at 519-883-2200 or apply online.
Tuition Rates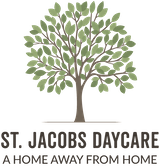 Tuition Rates: Effective January 2023
Base Rates
CWELCC Base Fee With
52.75% Reduction
Monthly Toddler
$1190.00
$562.28
Monthly Preschool
$1060.00
$500.85
Part-Time Daily Toddler
$59.25
$28.00
Part-Time Daily Preschool
$52.50
$24.80
* A $2.00 per minute late fee is applied to pick up after 5:30 pm
Notes:
Children who are younger than 6 years of age and/or registrated in kindergarten are
eligible for the CWELCC reduction.
The minimum tuition with CWELCC is $12/day.
Fundraising and Donations
As a not for profit charitable organization, we will gratefully accept donations to our daycare operation.
Contributions of all levels assist in the day to day operations and allow us to add to our programming both indoors and outdoors at the
centre.
Donations may be made by cheque (payable to St Jacobs Daycare ) or electronic transfer. A charitable receipt will be issued for all donations of $20 or more.
We also welcome donations of time and energy to support the centre.
Fundraising
An annual fundraising fee of $75 (non-base fee) will be requested in the fall and will be received as a charitable donation. A charitable receipt is issued for this donation.
The fee is optional as we are also happy to be the recipient of funds from community fundraising events, if you are organizing an event and wish to support us, please contact us.